This post is taken from my 10 mistakes in B2B Marketing published on the Smart Insights website. This is a free guide for Basic Members, so if you are not a member and you want to read the full thing….. just sign up, all you need is an email address!
Think that user experience is just for web and developers?
If I'm honest, even though I totally agreed with the principles of user experience the 1st time I studied it back in 2008, and I loved Steve Krug's book "Don't make me think", I've read Jakob Nielsen "Web Usability", and I've used user flows and use cases for my web personas.
However, post website projects I've left user experience alone.
What a mistake that was.
If you really want to succeed and provide products and services and market them in a way that's really going to connect with your prospects you need to get into this. It will make you more money, I promise.
Usability means making sure something works well and that a person of little experience can use it for its intended purpose without getting hopelessly frustrated.
The key fundamentals of good UX is to:
Identify the user needs. This comes from having a deep understand of your customers which take shape in the form of personas and customer empathy maps.
Understanding your business goals. You should have clear KPI's and map back to an objective first approach for all your campaigns and activities.
Technical constraints. Does it Better will always beat Did it First.
Personas
B2B marketing generally has a longer sales cycle and process than you would find in B2C and you must have a good understanding of your decision-making unit and how they go about finding information. If you have a persona drawn up, use them. I still see people that go through the process of creating a persona, and in their head a box gets ticked and they carry on as they did before. Without really using or sharing the personas throughout the company.
Knowing your customers and prospects is the most powerful driver of innovation you can have in a business. When you think of successful businesses they generally have the ability to embrace change, they are data driven, but above all, they have an obsessive focus on the customer. Every single decision made has its customers at the forefront of their mind and this is one of the hardest skills for marketing because you have to pull your head out of your bubble and put yourself in the shoes of your customers and empathise with them.
My favourite B2B personas are the Hubspot and MailChimp examples. I like them because they are simple but they get to the point. You don't need to write an essay!
Focus quickly on the challenges, issues and pain points. Why they are going to love your product?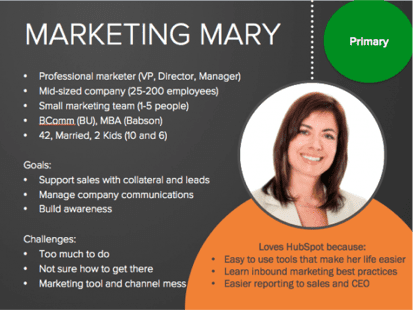 Hubspot Persona: Marketing Mary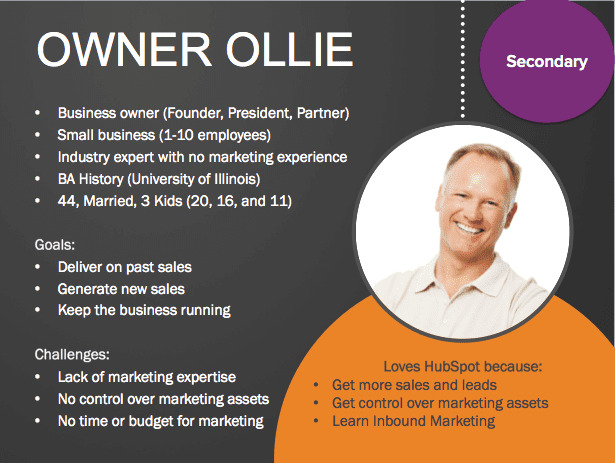 Hubspot Persona: Owner Ollie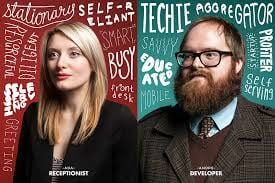 Mailchimp Personas
Brainstorm with your team and other stakeholders, such as sales, customer services, your actual customers and identify:
Who are your users?
Why do they use your product or services?
Where are they getting information from?
When do the experienced a problem that your product or service solves?
How are they accessing your products or services what are they doing?
With your personas all bagged up, think about your prospects and customers experience with your physical processes, interacting with your online or physical products, marketing, campaigns, anything that they touch from your brand should be delightful to interact with, yes, B2B can be delightful people!
Customer Empathy Maps
To punch up your personas a notch and really embrace UX, you need to create a customer empathy map for your personas.
The empathy map has 6 different components:
How the customer thinks and feels
What really counts? What do they aspire to do? Do they get preoccupied with something else?
What the customer hears
Things they would hear from their boss, friends, peers, influencers, news, podcasts etc What channel does your customer use the most? Are they easily influenced? Do they get persuaded more by coworkers or from influencers?
What the customer sees
What do they see in their physical or online environments, what problems does your customer face in that environment? What is your customer exposed to everyday?
What the customer says and does
Ideally you should put in direct quotes from your customers. How does your customer respond to others? What does the customer say to others? What information does your customer hold back from others?
The customer's pain
What are their fears, frustrations and obstacles? Dig deeper into the pain points from your existing personas and dive into what your customers fear the least / most? What obstacles do they need to overcome everyday? What frustrations could your customers have in the future?
The customer's gain
This should focus on their wants and needs, how will they measure success? What kind of success has your customer had? How did they get it? What long term goals do they have? What experience goals do they want?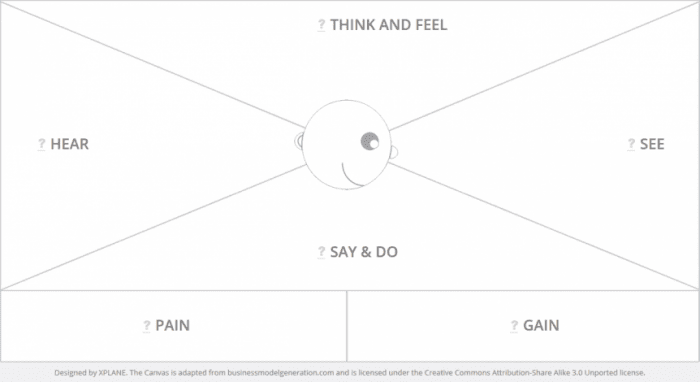 Example empathy map:
https://innvolve2014.wordpress.com/2014/05/21/customer-segments-empathy-maps/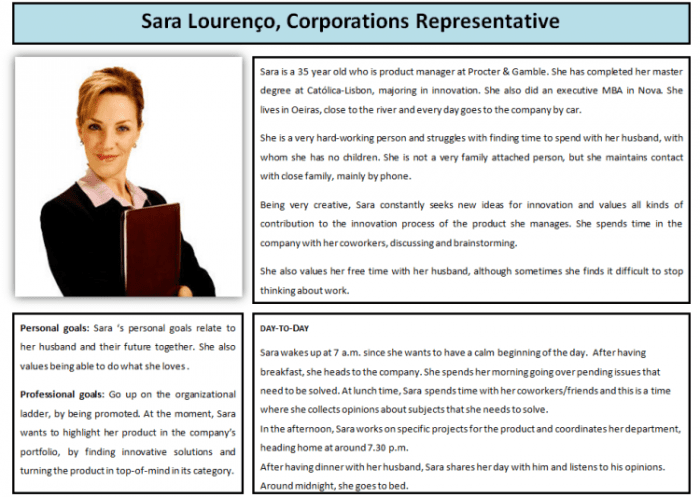 Persona Sara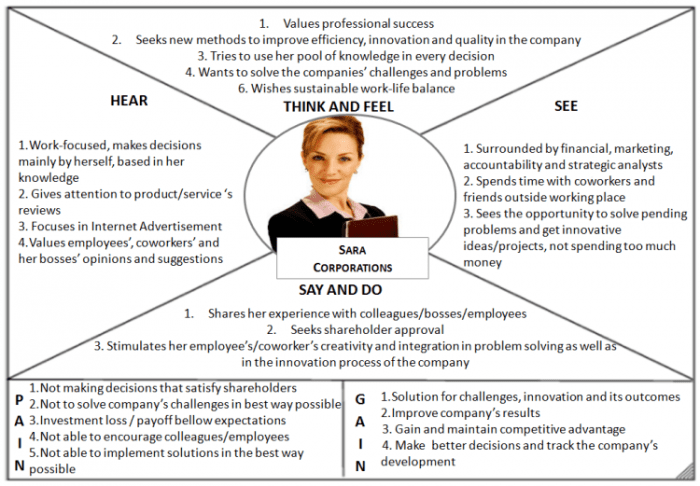 Empathy map of Sara Persona
User Experience in Marketing
So, you have a persona and customer empathy map. Now what?
The 1st focus should be around your company's website. Is it a good website? Are your landing pages working? Beyond your site and marketing materials looking good and being on brand, are they easy to follow, can users find the right information, can they perform the right actions at the right time?
"User experience's greatest impact to SEO is through the increase it creates in organis sharing and distribution" Rand Fishkin, Moz
Having an effective website is a critical part of digital marketing and more than likely the website underpins all the campaigns and communication that we do but good websites require continual improvements.
How do you know if you are on the right track? Start to use user flows.
User Flows: don't do any digital marketing without them
A user flow is the path you construct for users to convert, you need to design each step of your flow with intention and watch how traffic, leads and sales grow. The process is simple, but powerful and all you need is a sheet of paper, pens and maybe some post it notes, use the symbols to walk through the path you want your customer or prospect to take.
Think back to an experience where you have gone through a few steps, only to land on a 404 redirect page, or a landing page that you had already been on, or the wrong page. A broken user experience is hard to recover from. Find your weak spots and fix them.
I would recommend any B2B marketer doing email programmes, or paid search campaigns, and for any process on their site e.g. sign up to a newsletter, create an account etc. to use this tactic to map out their process.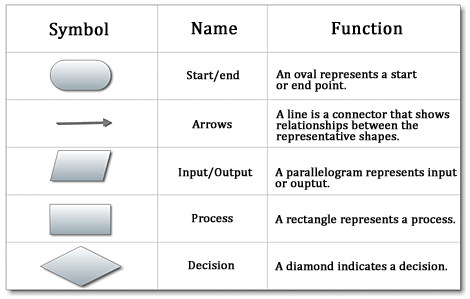 User flow chart icons
Using a flow-chart to summarise campaign waves
This example gives a more visual representation of a multi-wave campaign through time showing the "Sense and respond" or "digital body language" approach where follow up triggered communications depend on whether the email has been open or which links have been clicked upon.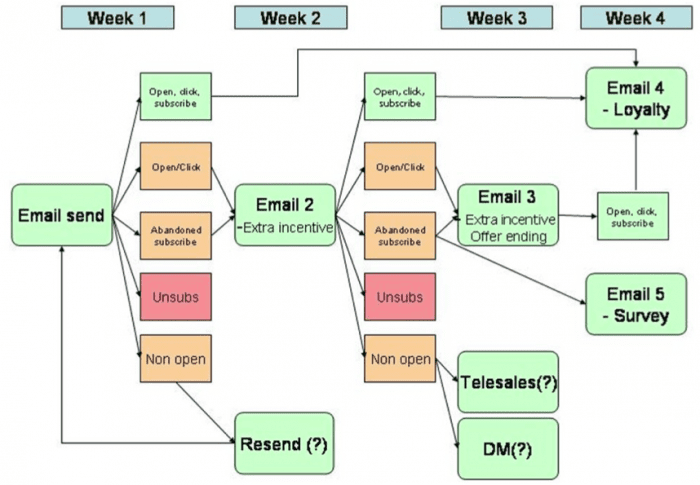 Example flow chart
Source: http://www.smartinsights.com/email-marketing/behavioural-email-marketing/how-to-plan-event-triggered-email-campaigns/
A super-intelligent approach assesses the value of the customer and their propensity to convert and then follows up with the most appropriate medium to gain conversion. So a high value customer may receive a phone call or direct mail which could maximise conversion.
Tools to help
It has become a lot more affordable to do UX test, you can get 10 videos of tests from whatusersdo.com for £300 and add filter questions to who gets the test so your matching to your target audiences.
Usabilityhub.com can give you insights on things like your navigation, or click tests for your latest DM campaign or landing page, responses start at $1 per response. $1! Cheap as chips.
What impact can you get?
I asked Timi Olotu, Senior Writer & Content Strategist for What Users Do, he shared a case study from Pan Macmillian, they increased click throughs to book retailers by 400% after watching user tests struggle with completing their business goals.
"It's amazing the things we can overlook when we become acclimatised to our own sites or lack the mindset of a user genuinely in need of a solution. For example, Pan Macmillan – one of the world's largest publishers and B2B businesses – increased click-through to book retailers by 400%, simply by adding a 'Buy' button next to book descriptions. The company never had these because the site was traditionally considered to be an 'online catalogue'. But having watched UX testing videos of how people actually use its site, the Pan Macmillan team realised a 'Buy' button would not only be great for users, it would also be great for business."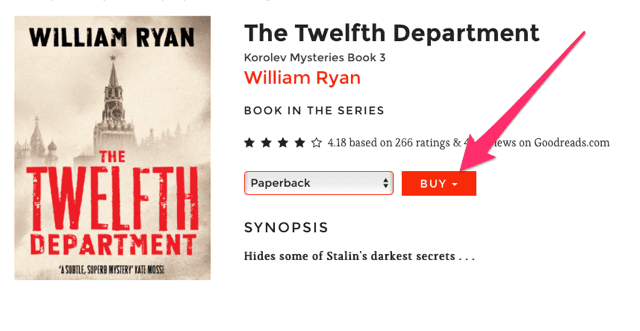 New addition after UX study
Source: http://whatusersdo.com/clients/resources/case-studies/pan-macmillan
Your to-do list:
Check if you have personas
When were they last updated?
Pump up the persona with more user centric insights
Create a user flow for a campaign or email programme